A website dedicated to preventing Minuet (Napoleon) lovers from being scammed by fraudulent websites claiming to be real Minuet (Napoleon) catteries.
About Tiny Lions Napoleons
Tiny Lions has been breeding only longhaired Minuets since 2015. A home-based small cattery, Tiny Lions breeds only a few times a year and produces only a handful of kittens at each breeding time. Tiny Lions cats are shown extensively in The International Cat Association (TICA) and have been championed and received numerous regional and international awards. See their Accomplishment page.
Waiting list: Yes
Paid waiting list: No
First come/first serve: No. We find the best family/individual for our kittens.
Deposit: Yes, once a kitten is reserved; nonrefundable. $100 for nonstandards, $200 for standards.
Breeding rights: Infrequently: must be approved and mentored by Tiny Lions
Registration included: Yes
Parent health check: Yes; UC Davis and Optimal Selection Feline DNA test, results upon request. Optimal Selection checks against 40 genetic diseases.
Pedigreed parents: Yes; available upon request
Champion lines: Yes
Vaccinations: Yes; 3 sets of intranasal vaccinations at 6, 9, and 12 weeks.
Health guarantee: Yes
Vet check before going home: Yes
Microchip: Yes
Altering (spay/neuter): No; however, you receive a $100 rebate upon proof of spay or neuter before kitten reaches 6 months old.
Shipping: No; flights must be in-cabin, in the company of a human; discuss transportation options. Many of our kittens go out of state. We will meet someone at Denver International Airport for the handoff.
Veterinarians: Kip Madsen, Animal Medical Center, 15226 W Hwy 24, Woodland Park, CO 80863
(719)687-9201
Kevin Conrad, Woodland Veterinary Clinic, 550 Chester Avenue, Woodland Park, CO 80863 (719)687-1060
Brittany Shumack, Village Center Vet, 710 Village Center Dr., Colorado Springs, CO 80919 (719)219-8569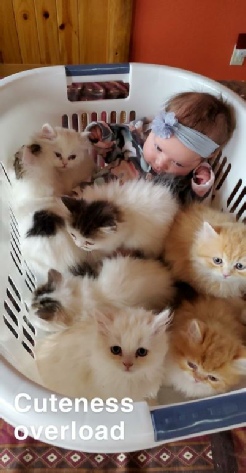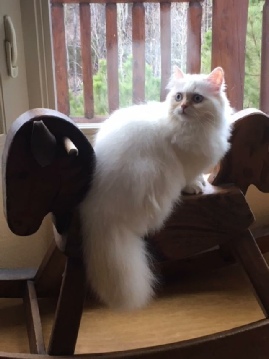 2020 Best of Breed Minuet Long Hair
RW SGC Blueskies Sydney Clawsby of TinyLions