A website dedicated to preventing Minuet (Napoleon) lovers from being scammed by fraudulent websites claiming to be real Minuet (Napoleon) catteries.
About Bluebonnet Munchkins
We are a small TICA registered cattery in Texas focusing on quality rather than quantity. We have bred many awards winning Munchkins and Minuets that double as wonderful pets. Small cats with the personality as big as Texas!!
Waiting list: Yes
Paid waiting list: No
First come/first serve: No
Deposit: yes
Breeding rights: If breeding quality cat/kitten becomes available and only to an approved cattery, with contract
Registration included: Yes
Parent health check: Yes; Optimal Selection
Pedigreed parents: Yes, available upon request
Champion lines: Yes
Vaccinations: Yes
Health guarantee: Yes
Vet check before going home: Only if requested
Microchip: Yes
Altering (spay/neuter): No; we have a spay/neuter contract
Shipping: Yes, when available
Veterinarians: Conover Vet Hospital, 918 TX 123, Sequin, TX 78155, (830)401-4714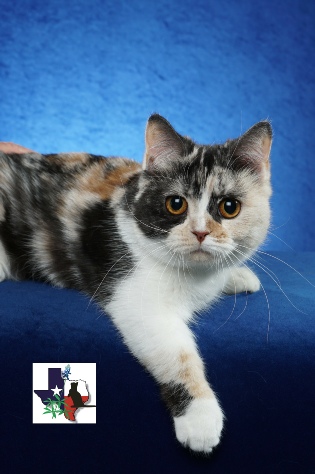 2020 Best of Breed Minuet Cat RW QGC
Bluebonnet S Sweet Magnolia Lott