A website dedicated to preventing Minuet (Napoleon) lovers from being scammed by fraudulent websites claiming to be real Minuet (Napoleon) catteries.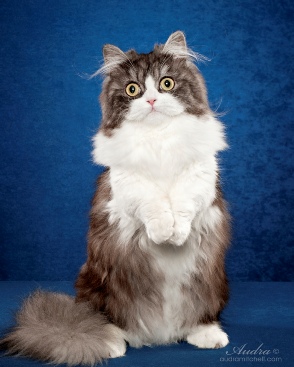 Blueskies Phabulous Phoebe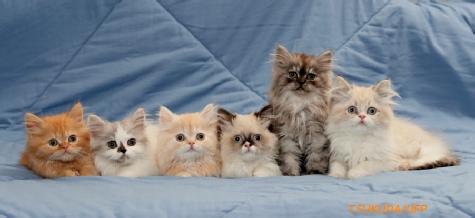 Blueskies Shumai, NeNe Park, Cracker Jack, Azuki Pocky, Kona Coffee, and Ginger Snap
About Blueskies Cats
At Blueskies, we raise our kittens as part of our family, underfoot, with as much love and cuddling as any kitten could hope to have. We will provide you with an adorable, sweet kitten who loves nothing more than to play and purr in your arms. We have been breeding Napoleons exclusively since 2006 and are registered with and members with CFF, where the breed is known by their original name, Napoleons, and also with TICA, where they are known as Minuets. We offer a great variety of colors including points and silver shaded. A genetic health guarantee is provided with every kitten. Blueskies is FeLV/FIV negative and all cats are negative for PKD. We are located in Northern Illinois, two hours or less from Chicago, Milwaukee, Rockford and the quad cities.
Waiting list: Yes, two kinds: one with a deposit and one without a deposit
Paid waiting list: Yes, for the regular waiting list
First come/first serve: Yes for the casual waiting list (after the regular waiting list). Also to the public if passed through both lists, pending approval
Deposit: $150
Breeding rights: Yes, if recommended by a trusted breeder friend, or upon approval
Registration included: Yes
Parent health check: Yes; UC Davis
Pedigreed parents: Yes
Champion lines: Yes
Vaccinations: Yes, two sets before going home
Health guarantee: Yes
Vet check before going home: Yes
Microchip: Upon request
Altering (spay/neuter): Yes
Shipping: In cabin transport
Veterinarians: Dr. Marquardt
Rochelle Veterinary Hospital
1381 7th St.
Rochelle, IL 61068
815-562-5207